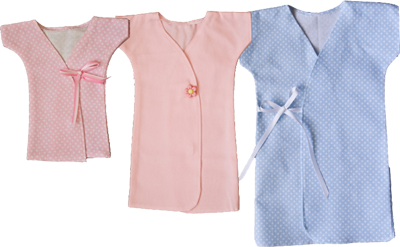 These kimono-style gowns open in the front to allow for easier dressing of our angels. Three different sizes are offered, to fit the following gestational ages:
X-Small: approx. 18-23 weeks
Pairs With:
Small: approx. 24-29 weeks
Pairs With:
Md/Lg: approx. 30-36 weeks
Pairs With:
**This is a current update to the pattern we previously used. Slight changes to the design have been made, instructions updated, and printing made easier. If you downloaded patterns prior to October 2013, we encourage you to discard them and use these newly updated patterns instead.
Before starting your project, be sure to check our Helpful Hints page for fabric suggestions, options for closures, and ideas for embellishing your gowns.