Skill Level
We have chosen patterns that are very simple and require only a basic knowledge of sewing to put together. You do not need to have a fancy sewing machine. If you have access to a serger, use it when appropriate….things will come together lickety-split….but if you don't have a serger, your sewing machine will be able to do everything you need for these projects. If you do have a nicer machine, feel free to experiment with decorative stitches to finish your gowns and blankets off.
Fabric
Choose the type of fabric you use carefully. Flannel works wonderfully, as do many cottons. Choose a fabric that is not so lightweight that it is see-through, unless you plan to line the gown. Fleece, while cuddly and warm, should only be used for larger gowns and should be a lightweight fleece. When you put a fleece gown on an 18-weeker, the bulk of the fabric drowns out the baby, and oftentimes, fibers from the fabric stick to the baby's fragile skin. Same thing if you make a matching hat….fleece simply doesn't work well for our tiniest babies. Knits finish up nicely, but can be a bit more difficult to work with for beginners.
When selecting your fabric, keep in mind who will be using it. While a Sesame Street sleeper might be adorable on a happy little newborn, it just feels out of place on our precious angels. Pastel colors work best. If you do choose a fabric with a pattern, keep it subtle. Remember that pictures are usually taken and we don't want the pattern in the fabric to compete for attention in a photograph.  Because they are used underneath gowns or blankets, diapers can be made from fabrics with busier patterns.
Closures
You'll need to decide what type of closure you want to use before you start and it will depend on the type of gown you are making.  Ribbon is good for some gowns…others work best with snaps.  Velcro is often a great option.  When choosing a closure, try to imagine the ease of closing the gown while holding a tiny baby.  If it seems awkward in your mind (a ribbon closure on the back of the gown, for instance), it will certainly be awkward in real life.  For Velcro, Fabric Fusion iron-on Velcro is a great option. It's easy to put on and eliminates the need to cover up stitch marks from sew-on Velcro. It can be a little difficult to find in stores, but the hunt is well worth it!  Diapers are closed using size 1 and 2 safety pins.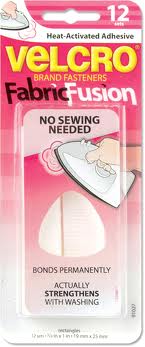 Embellishments
We want our gowns to be cute and finished off nicely, while still maintaining the reverence of the purpose they are being used for. Keep any embellishments simple. Often, a button is all that is needed to give a gown a nice finishing touch. A fabric flower can be used in place of a button for girly gowns, as long as it it not too large and overpowering for the gown (and make sure that the flower is FABRIC…..many flower embellishments are made of paper, which won't hold up if the family chooses to wash the gown). Lace is also a nice addition to gowns for girls.  While a simple safety pin can be used for diaper closures, there are many cute diaper pins out there that can add a nice bit of detail to a diaper.  Look for sales and pick up embellishments along the way to be used when you need them.
Heidi James donated these nicely embellished gowns in memory of her daughter, Ila May.  A little bit of ric rac, tulle ruffles, and tiny buttons helped finished them off beautifully.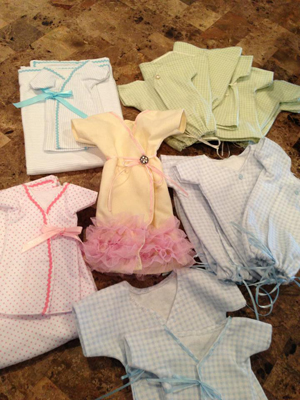 Blankets
For sizing, refer to the Kimono Gown pattern page. If you choose a patterned fabric for a blanket, try to pair it with a solid gown. If the pattern of your fabric is a little loud, consider choosing a more subtle coordinating fabric for the back of the blanket. This will enable the photographer to use the less distracting side of the blanket for pictures.
Packets
We love any donations that we receive at Utah Share. However, it's especially nice when we receive packets complete with a gown and coordinating blanket so that we aren't left to try to pair up individual donations to make a full packet. See the yardage tips below if you would like to buy enough fabric to put together a complete kit. At Utah Share, we generally use white knit hats with a pink, blue, or white ribbon. These coordinate with most gowns that are donated, so it is not necessary to add a hat to your packet. Although not shown, diapers in matching sets of two are also nice to add to a packet.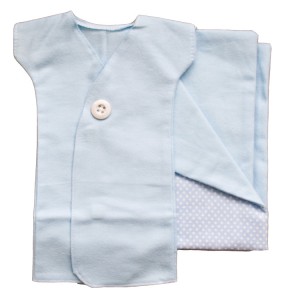 Pads
Sometimes we like to use a fabric pad with our tiny babies, which serves to both soak up fluid and provide more stability behind the baby to make holding easier. Fabric scraps work wonderfully for this purpose, with flannel being the best material due to its absorbancy. Ideally, a pad will include a piece of batting or a cut-to-size chug pad in the middle. If you don't have either of those on hand, you can also fold a piece of fabric several times until it is as thick as a piece of batting. Sew a line down the center of the pad to keep the batting from bunching up. If you have a serger, a quick run around the edges finishes it off nicely. If you are making a full packet, it's nice to include a pad, particularly for the x-small size.  Pad sizes don't need to be exact, especially if you're working with scraps.  See the Kimono Gown pattern page for pad sizing to match gowns.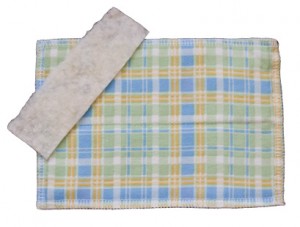 Fabric Yardage
We have found that 1 yard of fabric will yield 1 blanket and 2 small gowns, or 1 blanket, 1 md/lg gown and a pad. You might consider buying 1 yard of two coordinating fabrics so that the blankets will have two sides to choose from. You then end up with gowns in two different fabrics, which can be used with whichever side of the blanket it coordinates with.